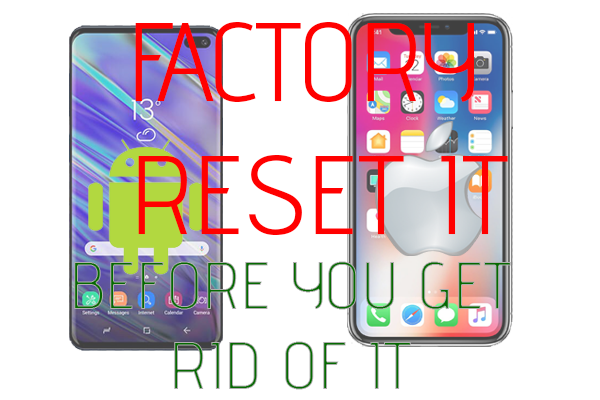 Warning: these processes will erase all the data from your device's internal storage, including personal files such as photos, documents, texts, etc. Be sure to backup your phone's data beforehand.
Reset your Android Device
Resetting your phone via Android Software where you go in to settings and click on backup & reset, then tap on factory reset isn't what it's cracked up to be. There is always something that stays because you are using software that requires storage in the temp files which it claims to clear which keeps pictures, documents and other things so how can a program erase what it's using without crashing your phone? – It doesn't.

Let me teach you the right way to clear your android device. Now, like I said above, this will erase everything on your phone and return it to factory defaults. For those that still don't understand, this will put the device back to the point of just purchased.


Turn off the phone completely.
Press and hold the Volume down button then hold the Power button until the phone turns on.
You'll gain access to recovery mode which is black and white or green letters.
Release all the buttons
Use the Volume down until Wipe data/factory reset is highlighted.
Hit the Power button to start the wipe.
You'll see a bunch of text stating Clearing Cache/Data/etc
Use the volume controls to move and select Reboot system now.
Hit the power button to finalize the process
Now the phone is back to the point of first purchase/boot. Everything is cleared and if you login with your old credentials we'll be back to square one so Don't!

You can give it to an eWaste Solutions provider, myself or your kids for their next phone.
Reset your Apple iPhone
I prefer to wipe a Apple device via Software to a computer and no, not iTunes since iTunes saves your stuff to "reload" on the device.
Before I dig deeper into this, You need to do yourself and anyone else's self a favor and remove your device from your iCloud account if you plan on getting rid of the phone.
Now down to resetting and wiping your phone.
Download and install 3u Tools from: www.3u.com
Put your iDevice into Recovery/DFU mode so 3u Tools can work it's magic
Connect your iDevice to the PC you installed 3u tools on using the correct USB cable for your iDevice
Click the "Flash & JB" then Select Easy flash then select the available iOS firmware for your iPhone
Make to uncheck the "Retain User's Data while Flashing" to keep from restoring your data
Once this is done click the Flash option.
You'll see 3u Tools downloading the latest Firmware for your phone and then begin to flash it.
Once the process if complete, unplug and don't login or we'll have to start over.
Reset your Apple iDevice (non-iPhone)
Use the 3u Tools above method. It'll save us all time.
Oh and don't for get to remove your device from your iCloud account