So, you want to know what I do in my spare time? Spare time, that is something we don't have often as Fathers and Business owners but I am going to break it down in to sections and build these sections over time as I have more pictures, information, links, etc.
Radio Controlled Vehicles
I've been building & Flying/Driving Radio Controlled Vehicles since I first can remember. I received my very first RC Vehicle at the age of 7 and it was a Panda Baja Truck Kit with the remote of a controller like you get with a Drone or Boat these days, wasn't the pistol grip kind with the wheel on the side like is standard today. This thing was a slow crazy beast that I modded until I couldn't add or take away anything any more.
My next RC Vehicle was a Team Associated T2 Kit. Now this thing had something, it was more of a racing kit with better upgrade parts and motor options. I raced this at the old SO Cal RC Raceway in Garden Grove and I even kept it when SoCal RC Raceway moved off Brookhurst in Fountain Valley.
This is where things get interesting, I'm in my early 20's and have been going to school as well as working. I need to fill a void, mind you I stopped RC for a little while to work on other things about me. I grabbed a Team Associated B4 and a Team Associated TC5 kit. The magic happened when the TC5 hit the pavement. I still have this sweet car, it currently has a LRP 3.5 Turn Brushless motor and pulls over 70mph on 2 cell Lipo. Love driving this car.
Now you might be asking yourself, why no love for the B4, well I did. I ran paddle tires on the buggy but with the speed of the TC5, Off-Road stopped doing it for me for a little while. I liked having that fast speed, constantly thinking vehicle in my grips. The B4, it was a good buggy but I eventually sold it.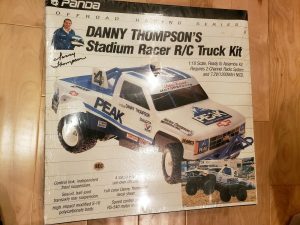 Vintage Panda Stadium Truck

Team Associated T2 Truck Kit
Radio Controlled Planes/Heli's/Quads (Drones)
This is my #1 RC hobby. Why? Because it puts you on the verge of being a Pilot. You can link your RC's to goggles these days and fly without ever leaving the ground and ever having to get a pilots license.
I'll sit down more one of these days and fill this in. I'll take pictures of my builds and such but for now, just know, if you haven't been to Fairview Park in Costa Mesa, you should take a visit and come watch us fly.
Model trains and miniatures are a fantastic way to create and enjoy time away from reality. It's your own world and how you want this little world to be is completely up to you. I personally like to model today's trains with various scenes around us. Check out my images to the right.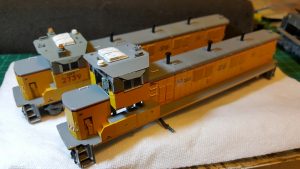 Model of Union Pacific GenSet with Road Number Change and added Blinking LED with DCC
Union Pacific Genset Reference 2739
I love to paintball.
The one thing I really love doing it buying "broken" Markers for cheap on eBay and fixing them, making sure they are 100% and then selling them or upgrade my markers and sell my old ones. I have 3 markers with a total value of over $2000 and spent less than $300 total this includes jersey's, markers, hoppers, etc.
If you need tips, tricks or if you have a broken marker that needs fixing, let me know. I'll be happy to help.